1. Define a Job Board Niche
First of all you need to define a niche for you job board, because your job board can't have all kinds of jobs. Technically it can, but it will be too broad for your users. Better to focus on a niche that you have some experience with and/or create your job board for a specific location or locations. For example, let's create a job board for React Developers. React library is trendy now so it might be a good niche. Also developers can work in an office or remotely (we will add these filters later).
2. Create a Job Board From a Template
Sheet2Site has a website template specifically for creating a job board. You don't need to write code or have specific skills of using website builders. All you need is a single Google Sheet. You can easily select it from the menu: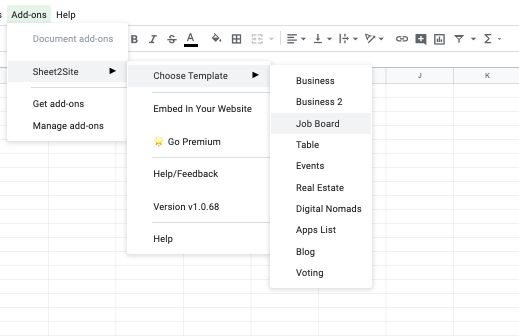 After the selection you will have a job board website with predefined data: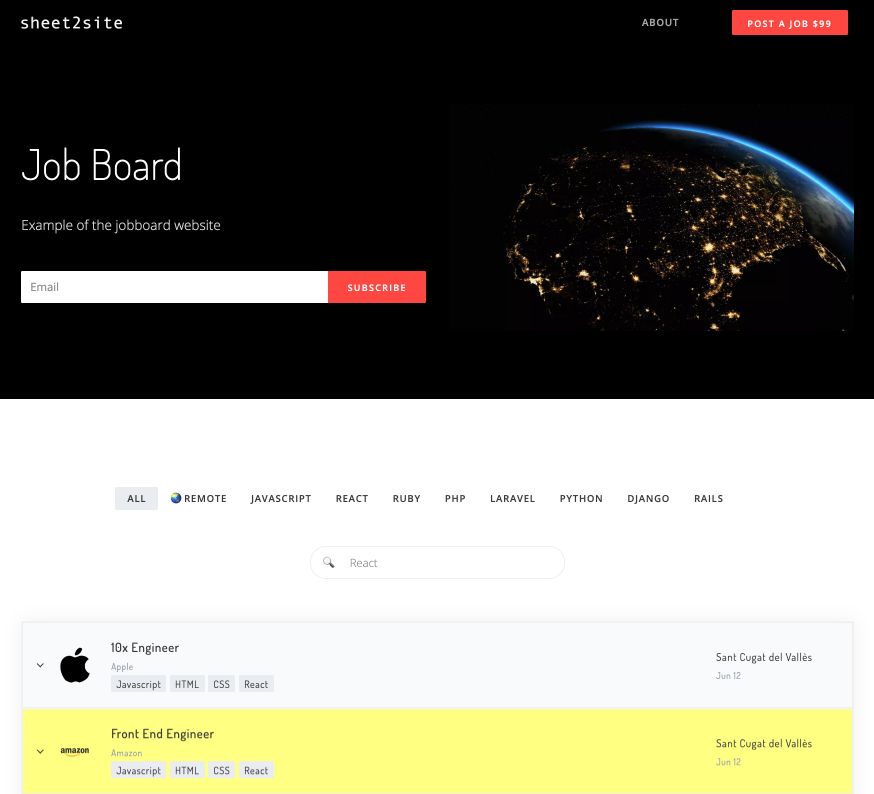 Now it's time to add your own job posts.
3. Add Job Posts
The most important part of any job board website is good, curated and up to date job posts. That's why your user will keep going back to your job board. You can find job posts by searching in Google. There 2 types of websites where you can find them:
Company website.
Jobs aggregator website.
Each job post should include:
Job title
Job Description
Company name
Company logo
Location
Tags
Link to Apply
You can add new job posts pretty easily as a new row in your spreadsheet: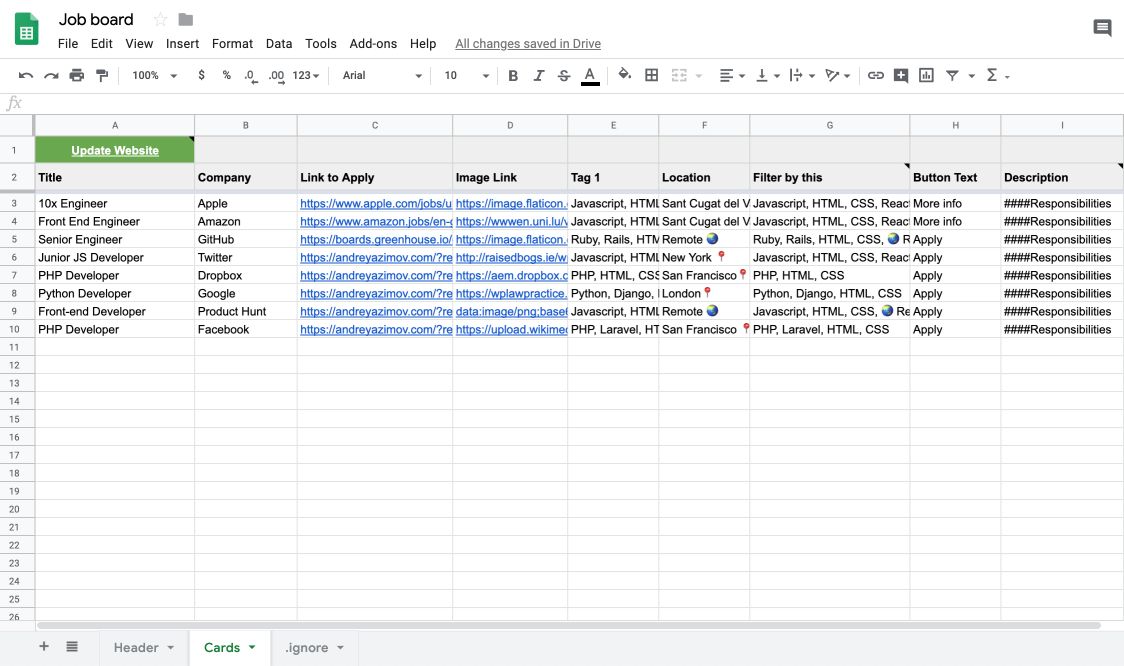 Description supports markdown syntax: this means that you can format job descriptions pretty easily, using headers, lists, images, links and many more things to make your job easier to read.
You can add your first 10 job posts and go to the next step.
4. Change design and logo
Besides good job posts, your website should look good. With Sheet2Site you can easily change the colors of your website directly in your Google Sheet: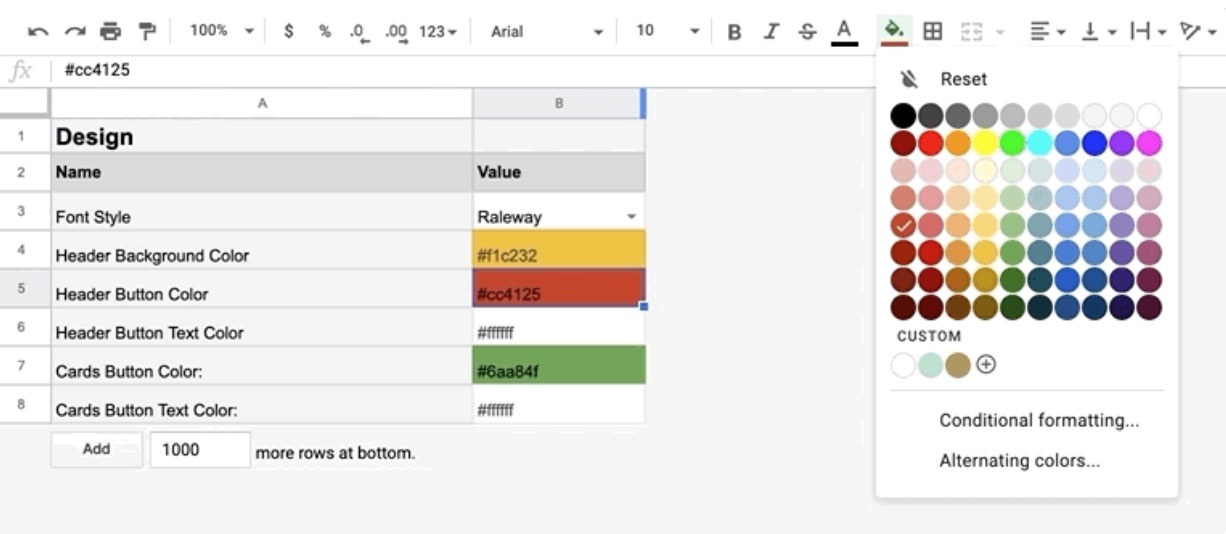 You can also change the font of your website from one of the Google fonts. Pay attention to detail. A good website should have a good logo. You can add it in the navbar:

Here is how your logo will look on the site: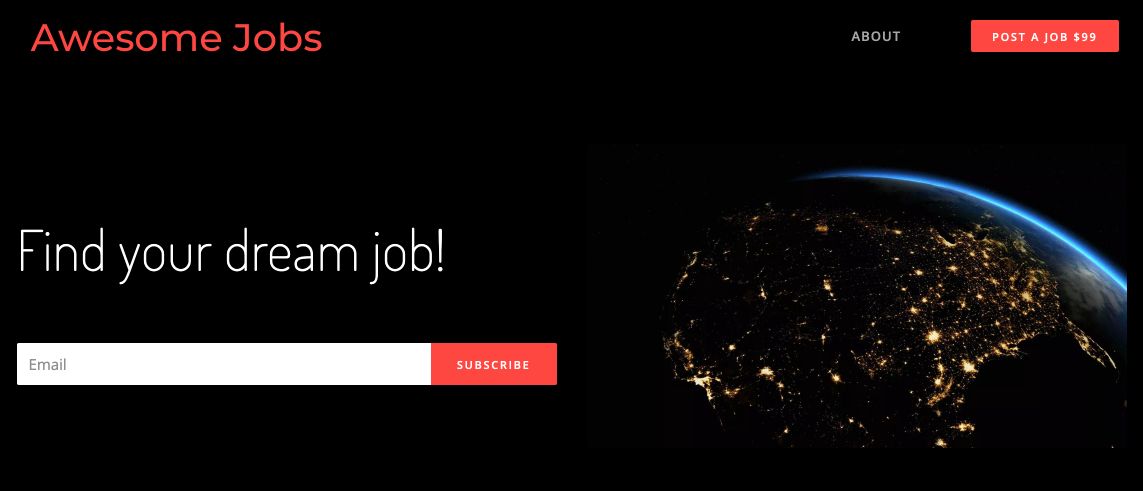 You can change the design of the header from the template. Just select what you like most, for example template #1 with text on the left and hero image on the right side: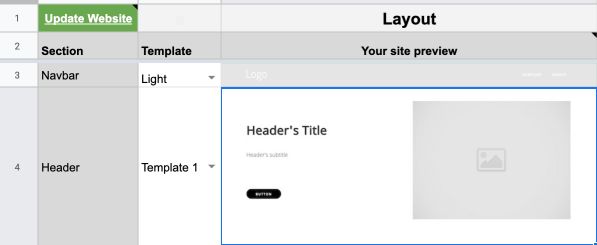 To change a header image, open a header tab and add:
Title
Subtitle
Image
5. Collect emails
To make your users come back to your website you can notify them each week for example by sending a digest of new job posts. To collect emails you can use the most popular tool which is Mailchimp. After creating an account you can add a link to the form and it will appear automatically in your header as an email input: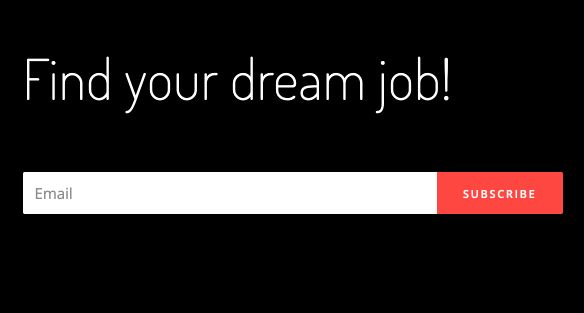 So now your users can subscribe for updates.
6. Accept new job posts from the users
To be able to add accept new job posts from the users you need need to create a form to be able to add new the job post details.
You can create a form with Google Forms. All fields that you will add there will appears in the form in your website, it will look as a completely as a native form. You can add more fields to your form if you want, it will update the form automatically.
Here are some common fields that you need to collect with a form:
Title
Company
Link to Apply
Company Logo Link
Tags
Email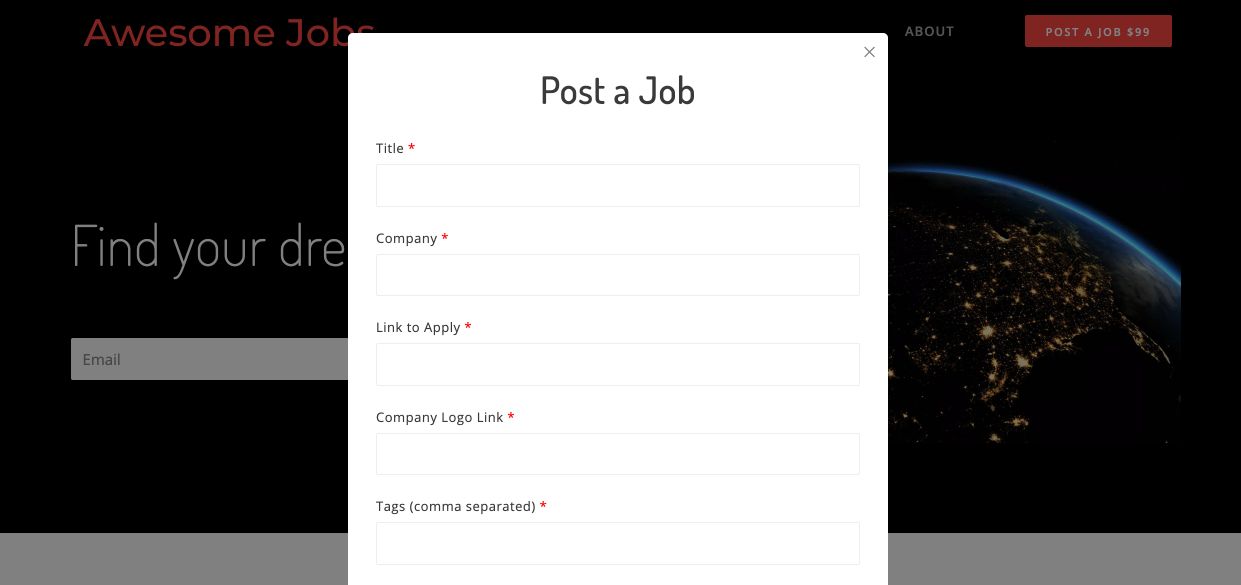 7. Monetizing a Job Board
The best way to validate your business idea is to see if customers will actually pay for it. The classic job board business model is to charge companies to post their job posts. Sheet2Site supports Stripe Integration. Stripe is the world's #1 payment processor that allows you to accept payments from customers around the world.
After the user will submit the form it will redirect to Stripe page to make a payment.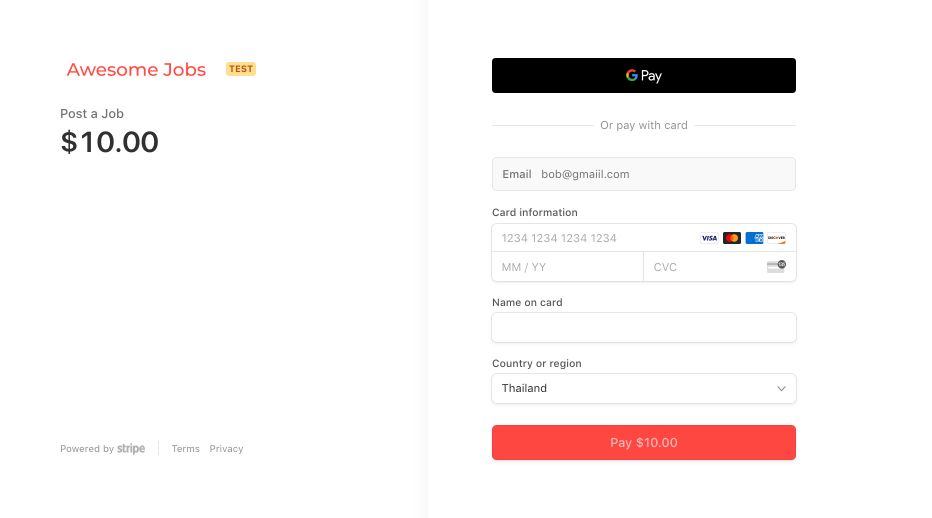 Once user entered his credit card details and payment succeed he will be redirected back to the job board and he will see success message.
His job post details will be automatically added to the Google Sheet and it will appear with golden color (or any other color that you like).
You will receive an email notification that new job post was added.
Here is a video demo showing the payment process:
8. Marketing
If your job board is in the tech industry you can submit it to:
If your job board is based on some specific location you can submit it to:
Local forums
Facebook groups
Slack chats etc
9. Tips and tricks
Here are 4 tips that will improve your job board:
Job post links
Social cards
Tags
Filters and search
Tip 1: Job post links
When the user click on a specific job post he will see a specific link of this job post like: jobboard.com/#front-end-engineer-amazon. The users can copy this link and share specific job post: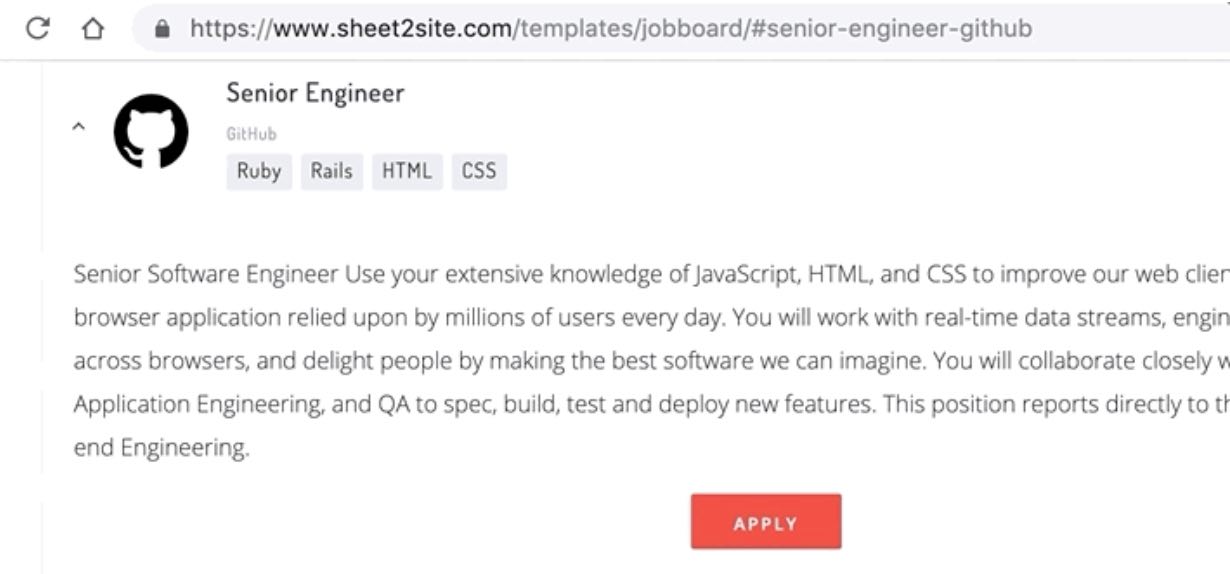 Tip 2: Social cards
When users sharing your job board in social networks it should looks perfect. You can add all necessary information to the settings to the settings tab:
Here how it can looks like in twitter: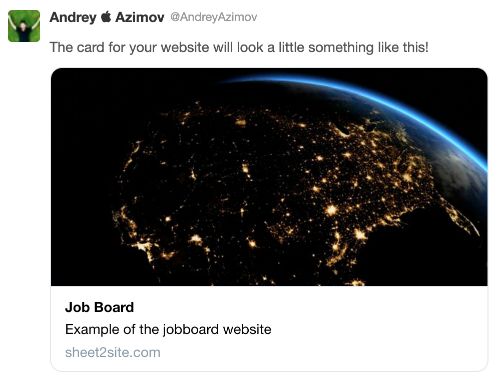 Tip 3: Tags
To catch user's eye quickly on a specific job post you can add tags that will be added to as a badges. These tags are comma separated and you can add as much as you want. Tags are usually related to a specific type of skill or a technology, for example in out case we can add: front-end, back-end, pythong, ruby, php etc.

Tips 4: Filters and Search
Filters and Search Your users might get lost in the huge amount of job posts. To be able to help them easily find what specific job post they want you can add filters and search to your job board. For example you can add filters based on specific type of skills and location:

10. More Examples
Here are some examples of job boards for your inspiration that Sheet2Site users created recently:
NO CS OK - Job Board for Developer jobs without a CS degree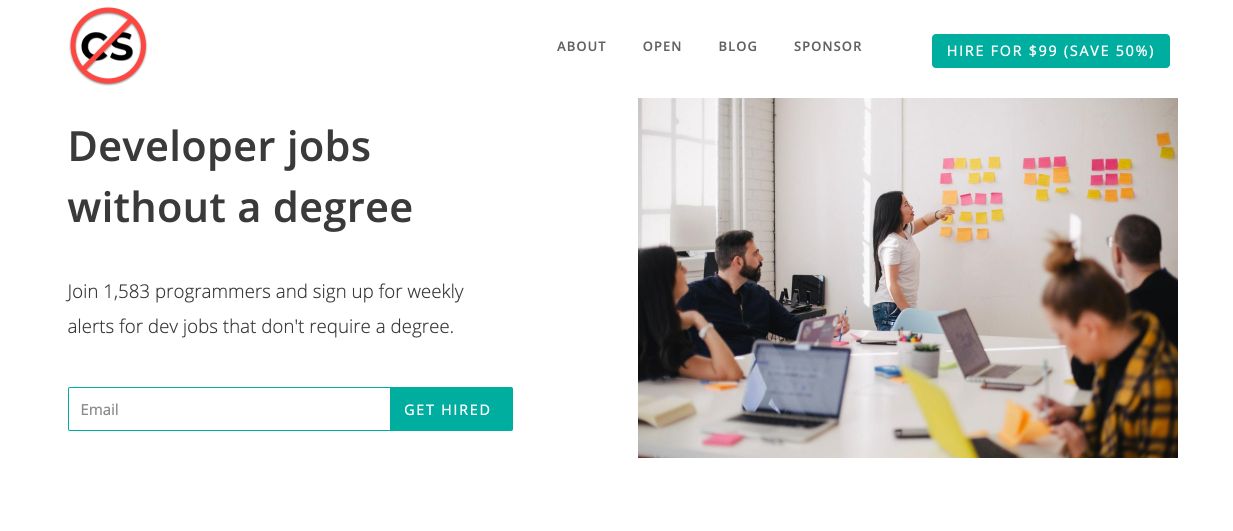 WeRemoto - Remote Job Board for Developers, Designer, Marketers focused in Latin America.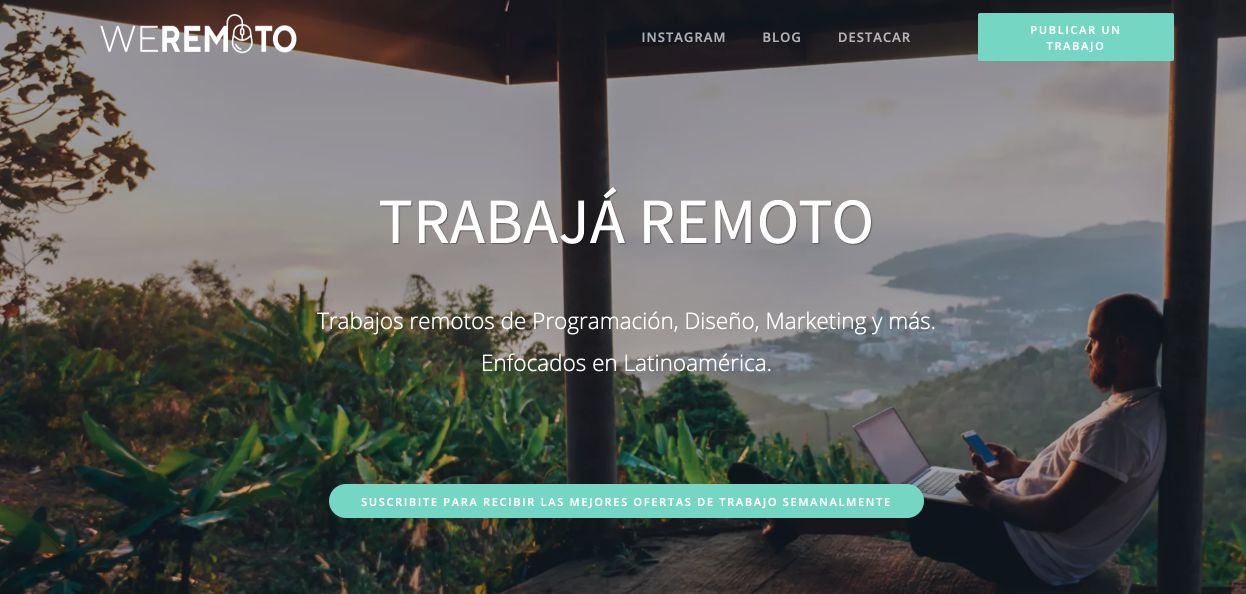 Agency Cheddar - Job Board to find and list incredible agency jobs.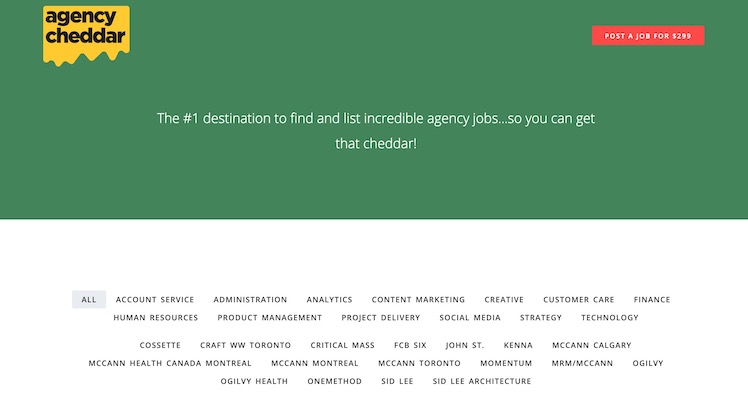 Agile Job Offers - Job board for people specialized in Agile methodology.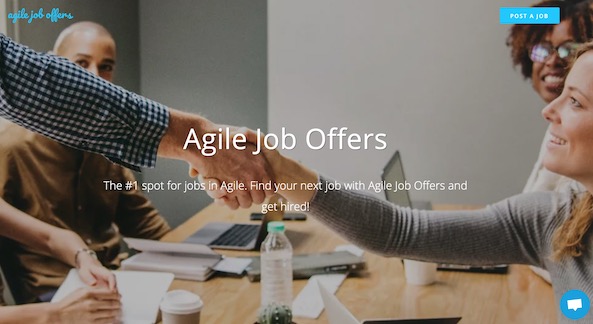 Product Jobs - Job board for Product Managers and Product Designers in France.