With Sheet2Site you can create detail pages to show more detail information in the separate url.
For SEO is important to not just have a one page website. Google likes websites with more pages and good content. To be able to do it, you can create more pages which will show detailed information.
How it looks like:
Unique URLs
Pages will have unique url.
The slug will be created automatically from the title of the Card
URL examples:
Sheet2Site:

https://api.sheet2site.com/api/v3/index.php/?key=1iG2CItl610VWam2M3kx-5HJU5N_nqUzJ4hFHI9FMKaU&page=rolex-oyster-perpetual-explorer

Custom domain:

example.com/rolex-oyster-perpetual-explorer
Sitemap
Each of these pages will be added to the sitemap.xml (on custom domain) which will be good for SEO.
Select types
You need select a type for each column in the "Cards" tab that have data for your pages. The same as for Modal Pop-up.
Detailed-Page-Title
Detailed-Page-Description (support's Markdown syntax)
Detailed-Page-Image
Detailed-Page-Button-Text
Detailed-Page-Button-Link
Detailed-Page-Extra-Field (can be many)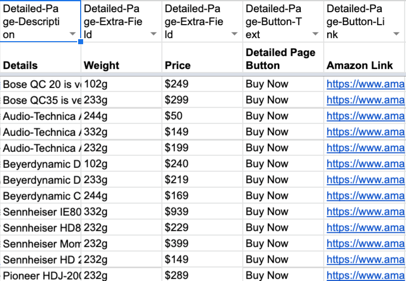 Click to open Google Sheet
Detailed-Page-Description column supports Markdown syntax so you can format your page with header titles, lists, new lines, etc. More info here: https://sheet2site.com/markdown
Set the Setting
In the settings tab make sure that you set Detailed Page or Modal to: Detailed Page
You can switch this setting to see the difference between Detailed Pages and Modal. Types in the Cards tab will be the same, so you don't need to change them.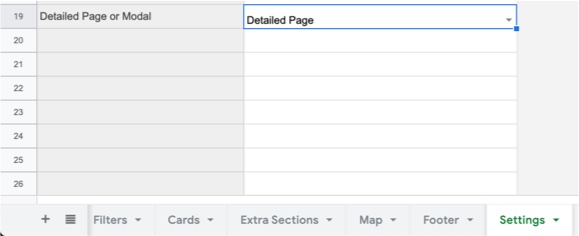 Click to open Google Sheet